Becoming a Teacher Leader
Why becoming a teacher Leader ?
The world of education is changing. Teachers are no longer just standing in their class and teaching. They are taking on leadership roles and their influence goes beyond their class. The speech delivered by Dr. Yilin Sun, the President of TESOL International during the TESOL Convention in Peru resounded as an echo to this. For decades and even more teachers have limited their vision of education to their classroom boundaries. But with technology, government input and innovative types of teaching education is now being taken to the next level. Teachers shouldn't be seen as mere educators relying on their textbooks to convey knowledge. They should be seen as key roles in the upcoming changes in Education. But doing so requires a lot more than just words and projects. Teachers have to be the ones with a vision.
They have to consistently thrive for a better world where education sets the basis of better opportunities for their students. An efficient teacher leader demonstrates important skills to identify issues, find solutions, motivate and energize peers around a common vision.
Teacher leaders are keys to build links not only within their schools but also beyond their school environment to convince others that their vision can make a valuable change to the education world.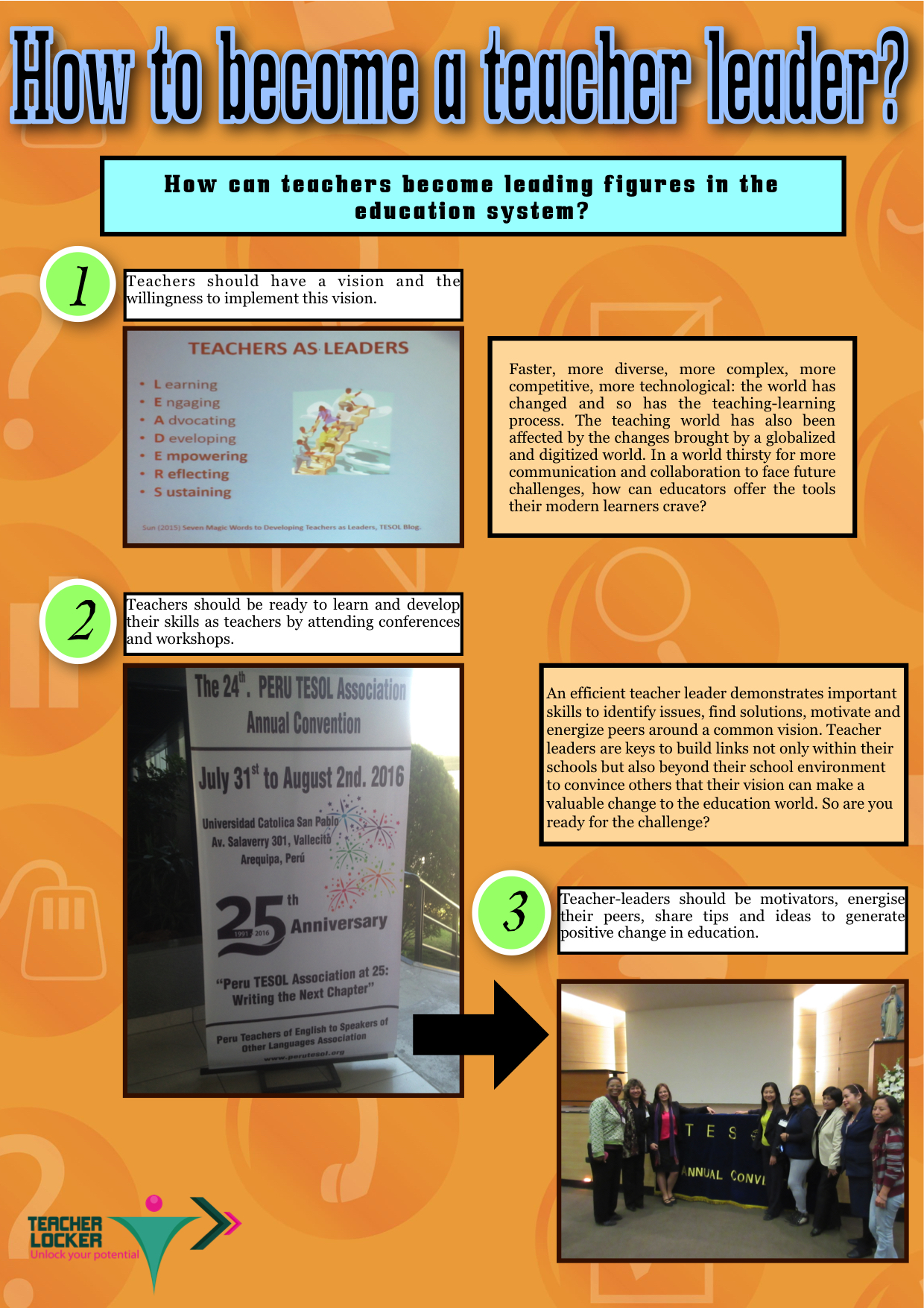 I will quote here Dr. Yilin Sun about teachers and leadership: "L stands for Learning, E stands for Engaging, A stands for Advocating, D for Developing, E for Empowering, R for Reflecting, and S for Sustaining". Sun, Y. (2015, March), 7 Magic Steps Toward Developing Teachers as Leaders.
I would simply mention here that there are no magical steps to become a leader. Most teachers display skills to become efficient leaders but what makes the difference is the dedication, motivation and the organization skills they possess.
What truly makes the difference is the ability to get out of the comfort zone and avoid procrastination at all cost. Of course marking, planning, designing material, paperwork and parent evenings can be constraints in terms of time to implement projects but if I have learnt one thing when coaching and training teachers it is that procrastination leads to nowhere but to regrets: "If I had known I would have set up this project earlier. Had I known it was easier I would have dared." These are sentences I often hear when coaching teachers.
My point is people are not going to help you reach your goal as an educator and even less as a leader. No one is ever going to knock on your door to tell you how brilliant your ideas are. You and you only have to stand up for what you think is right. This means going to free trainings even on weekends, saving money for workshops if your school can't afford to pay the fees, travelling, connecting with your peers in your town, country and abroad.
Even if this costs you long sleepless nights I do believe that education and the future of our kids is worthwhile. So what are you doing to be the next Teacher Leader ?
I would love to hear about Your ideas and initiatives