Create competition in class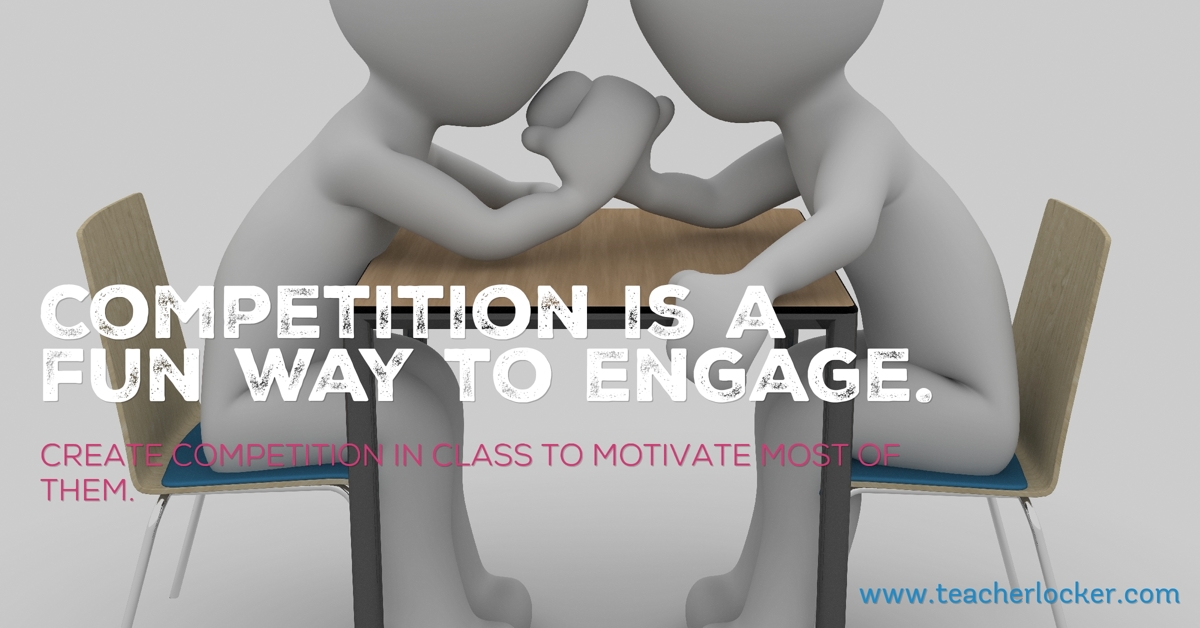 Competition is a fun way to engage. Create competition in class to motivate most of them.
Who does not like showing how much he knows about a topic? Well that is the same for our students. They want to prove what they are capable of. Therefore we have all good reasons to implement some competition spirit among our classes. However we still need to be cautious with competition as girls for instance are less receptive to competition than boys so having too much competition in a mixed gender group can be detrimental to the learning of girls as well.
Creating a suitable environment for competition
Creating a competitive environment is not an easy task as it requires some rules to avoid chaos. So before starting to play a team game you need to explain students clearly what you are expecting of them in terms of attitude and it terms of answers. For example they should be aware that calling out the answer out loud will make them lose points for their teams, being disruptive will lead to the end of the game and that you are looking for a perfect pronunciation to get the point.
Types of competitions
You can have individual competition in which students are competing against one another. This might not be the best solution as you will soon find out that whatever the type of competition the same student will be the winner. This can cause demotivation for the rest of the class. Group competitions on the other hand are better as they give everyone a chance to be part of the game and to win. It's good for the development of their social skills and it is also valuable for emulation. You can decide to group your students in mixed abilities, or according to their acquaintances, or maybe according to their gender if you think that is suitable.
Teaching activities promoting competition
In terms of activities you can have rapidity games where students have to be the first ones to find a solution to a problem (mathematical equations, sentences to unscramble, finding the hidden message), you may use quizzes that will assess their knowledge on different areas (sport, culture, geography, music etc.) or online games with multiple choices answers etc. What we want when implementing competition is to give everyone an opportunity to win.
Through competition students face the reality. We live in a competitive world and learning that competition is important from a young age is part of our students' learning journey. Competition also teaches students to struggle to reach their true potential. Their efforts will be rewarded in the end. Nonetheless competition should not be seen as an end in itself but rather as a means to acquire knowledge in a way that best suits students and we need to be cautious when implementing competition as it can be a cause of frustration for those who always fall behind the their peers.