Over the past few years, East Asian countries have been brought to light in terms of their successful education systems. Their success is especially noticeable in the PISA test. So, why are Asian countries such great education performers? In a previous article I explained some of the main characteristics of the Finnish education system. Now let's see what the Asian countries bring into education.
First of all the status of the teacher is far away from that we experiment in Western countries. Teachers in Asia are highly valued and respected, so the education field is appealing for many. Another interesting feature is that teachers can evolve in their profession. They have real career prospects that are engaging for them. On top of their status teachers also benefit from competitive salaries and they also receive bonuses for their hard work. As in Finland teachers receive a lot of free professional training and they are encouraged to take on leadership positions. With such appealing characteristics schools in East Asia have many young teaching talents ready to enroll!
One of the reasons why schools are so successful and why teachers are so respected is partly due to a cultural conception of education. Asian culture places a high importance on education and educators. The families and society convey the idea that education is key to success in life. As a consequence children are trained from a very young age to be high performers. They are encouraged to take intensive courses, tutoring and extracurricular activities on top of their normal academic hours.
Because of the high value placed on education students are resilient in classroom and behavior management is not a main concern in Asia. As a consequence it is not uncommon to see classes packed with 40 students or more. The contact time between teachers and students is however particularly low. For example, upper secondary teachers spend on average 30% of their working time in classrooms, the contact time in South Korea is close to 40%, which makes a big difference to the contact time in the US which averages 53 %. (OECD data in 2010). The time spent outside the classroom is meant at improving the teaching-learning process, so teachers in East Asia will spend most of their time observing their peers, mentoring, researching, analyzing data and preparing resources to improve the curriculum.
Even if Hong Kong, Shanghai, South Korea and Japan are part of the best achievers according to PISA, it´s worth noticing that PISA tests only focus on cognitive skills in reading, maths, science and literacy and on test taking. In other words Pisa doesn´t assess the independent thinking ability or the ability for students to adapt their skills to new contexts. Students are therefore excellent test takers whose knowledge is based on rote learning but the creative and innovative part is left behind. Some may also argue that this type of education can be detrimental to the psychological development of children. And it is true to some extent that in East Asia the emphasis is more on results and performance than on the child´s well being. It is therefore quite common to see some children burn out before they are teenagers.
Nevertheless Asian countries are well aware of the flaws in their education system and they are willing to go a step further in the improvement of their systems by sending teachers abroad to observe the way Westerners deal with teaching-learning. As a consequence in Japan and Hong-Kong for example they have dramatically reduced their class sizes to offer a more personalized support to students. And in terms of creativity and innovation they are trying to understand how foreign education systems foster creative thinking.
There are many features that could be borrowed to East Asian countries. The high value they give to education, the respect naturally given to teachers, striving for excellence etc. but above all what is highly remarkable is the ability and willingness of these countries to improve their education systems. They don't fear the comparison with others they just adapt what they learn abroad to make it work in their education systems. They are not afraid to go beyond their borders and to think out of the box to create high performing education systems.
Top performers – Global Index of Cognitive Skills and Educational Attainment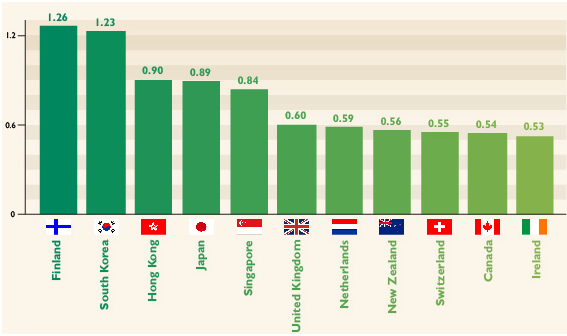 Note: The chart shows countries in Index Group 1 (z-scores at least one standard deviation above the mean) and Group 2 (z-scores within half to one standard deviation above the mean.)
Source: Economist Intelligence Unit.