Why using online teaching resources websites?
A technological evolving world
The world has changed: It's faster, more diverse, more competitive, highly technological and more complex. Let's face it:  the way we teach now is totally different from the way we taught 20 years ago. Whether this is a good thing or a bad thing is not the point. The point is to acknowledge how we, as teachers can become better teachers to help our students cope in a globalized and digital world evolving endlessly.
Adapting for our students
The answer is fairly simple: We must adapt. Am I saying that we should burn our old teaching methods books? Of course not. I am simply saying that human beings have always found a way to survive changes through adaptation. So how about changing our habits by finding different ways that work to make the impact we want on our students?
Learning with online resources platforms
We all have experienced the change especially in terms of technology. Our tech-saavy students were born with technology in their hands but most of us we weren't. We had to learn and we still need to learn about the different techniques and IT tools surrounding us. However nowadays we have the opportunity to use online platforms to discover, experiment, download, upload resources and most importantly reflect on our teaching practice.  So why not make advantage of these?
Reflecting and improving our teaching skills
Let's be honest we don't always have the time or receive the trainings we would love to have in our schools especially in terms of technology. So, the advantage of online teaching websites is that you can save time by downloading and uploading resources whenever you want. By discovering how our peers teach and how they turn their lessons into success it gives us the invaluable opportunity to improve on our own work. Creating and embedding videos and songs, creating fully interactive resources in ESL, French and Spanish, these are just some of the few skills I learnt thanks to online teaching resources websites. These websites are full of amazing ideas and material. The benefit? My students and colleagues.
What makes online resources a value-added?
When creating resources whether offline or online, we must have in mind our students. How will my resource best benefit my students? Is it differentiated enough to allow all my students to reach their potential? Is it appealing, colourful and editable? Is it suitable to their level, their needs, their abilities? These questions are the ones that should lead our lesson planning and resource creating.
So what is the point in using and creating online resources? It's time saving for your colleagues, it's training for new teachers, it's valuable thinking time spent on our students, it's fun, it's challenging and above all it gives you a sense of community.
I have been teaching and coaching teachers in many countries and online resources websites have always been the link to help me connect with people anywhere at anytime. What you discover when outside the classroom, in the virtual teaching world, it is that there is a great community out there: A community of dedicated teachers, trainee-teachers, experienced teachers, edupreneurs all aiming at the same goal: Improving education
Here is a message I have received from a customer or I'd prefer to say a colleague: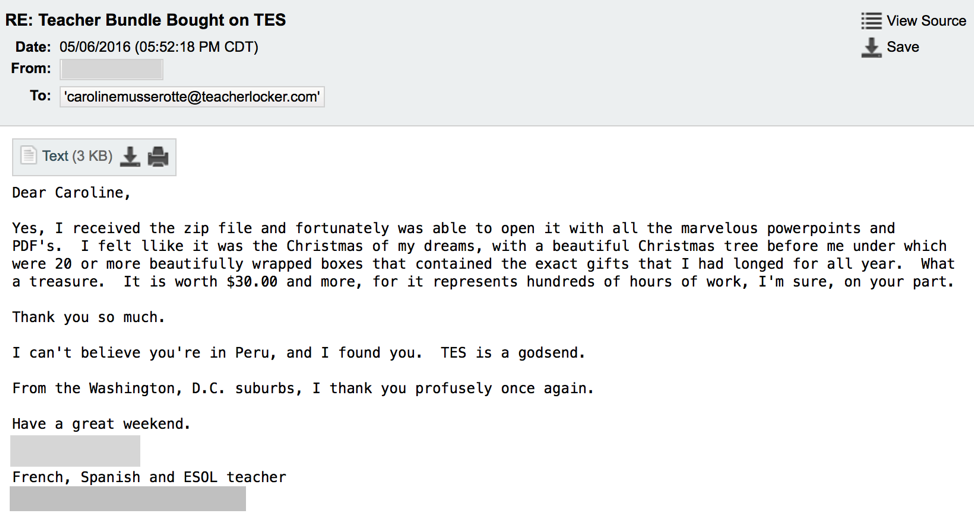 Knowing that my hard work can be shared and used anywhere in the world, THAT makes my day! I am glad to see that I can change my corner of the world by improving my resources and that is what truly matters. I am delighted to have found some tools allowing to improve my teaching skills constantly to provide my students and colleagues the best possible material.
So if you believe that you can change the world, just do it by using all the tools you have at your disposal. Let online teaching websites be the tools towards your own achievement and that of your students'!